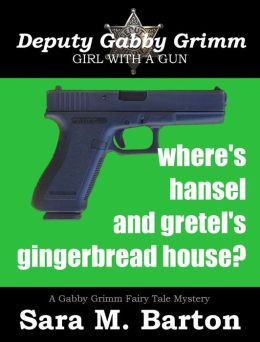 First Paragraph:
"Holy crap!" Those were the first words out of my cousin's mouth when she saw me come through the door with my overnight bag the day after I fell two stories off a roof. "You look like hell!"
Where's Hansel and Gretel's Gingerbread House? is the second book in the Gabby Grimm Fairy Tale Mysteries series.
Set around Gabby Grimm, the Deputy Sheriff of Latima Falls, who receives a call from her cousin, Nettie, asking her to come visit A.S.A.P.. So it's a long train ride on aching limbs (after a incident on a roof) from Vermont to NYC for Gabby. Once there Nettie spills her heart out about being used by (yet another) man, Joe Fortune, who has now mysteriously vanished. All he left behind was a phone number and when Gabby calls him (to give him a piece of her mind) she reaches not Joe Fortuna, but Mike Alves. Next thing she knows, she has her very angry boss calling her up, courtesy of the FBI, demanding she get both herself and cousin down to Vermont now. Nettie is a wanted woman and the FBI are coming for her.
What has her cousin stumbled into now? Who is Joe Fortuna and Mike Alves? Are they the same person? Why are the FBI involved? And does it have anything to do with Nettie's job in real estate?
It's a quick dash to gather evidence, hide it from prying eyes and prove both their innocence and uncover the conspiracy that unfolds.
The story starts pretty slow, but starts to pick up later on. Considering the length of this novella, a slow start is easily read through. It's not slow or long enough to make you lose attention. The plot itself is pretty fun and enjoyable. The book is set around Christmas (though it can be read at any point during the year), but isn't about the holiday itself, it's more of just a simple backdrop. Nice snow, cold weather and a very important gingerbread house.
The characters are likeable and very similar to the types of characters this author creates. If you've read any of her other books, you can feel the similarities between them. For one, a lot of her stories are set in Vermont. There's usually a confident, female lead who needs to help someone in trouble, usually someone who can't help themselves.
There are also nice, little details (from the original fairytales this series is based loosely on) woven into the text. The plot of each book is set around a basic detail from the Brothers Grimm stories. In this book it's the gingerbread house from Hansel and Gretel. There are also other very small things added in. Gabby has a cat called Puss N' Boots. Her father runs a German style chalet called Black Forest. There are a few nice "easter eggs" worked in, that are fun to come across.
I haven't read the first book (Snow White and the Huntsmen), but I don't think it affected my enjoyment of this book at all. I believe each book can be a stand alone story or read as a series, with each book having a different setting, but with a few recurring characters.
A fun, light read. If you're a fan of Sara Barton you'll love these. If you're interested in cozy mysteries, why not try it? A quick read that will lead to an enjoyable afternoon.
Disclaimer: This book was sent to me by the author through a giveaway. This is not a sponsored review. All opinions are 100% my own.