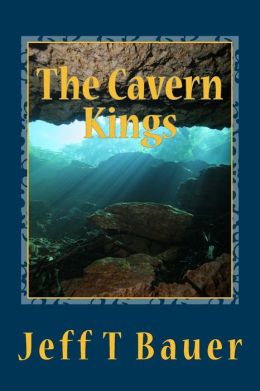 First Paragraph:
"Josh looked across the faces of the six students as Kathy began her final dive briefing on the bow of the fifty-foot dive dive boat Minerva. The weather was typical for midday of midsummer in North Florida- clear bright blue sky offshore with distant thunderheads building along the shoreline. The boat gently rocked against the mild surface current from the attachment point of the anchor line at the rip of the bow. Josh could smell the heavy perfume of salt air."
The Cavern Kings by Jeff Bauer is an interesting book that looks into the world of diving- specifically cave and cavern diving. As a diver myself, I find myself drawn to the water and (judging by this book) the author seems to feel the same pull.
The story begins in the small town of Wakulla, Florida. Josh is a scuba instructor working at Wakulla Skuba alongside his friend, mentor and boss, Kathy. Together they run the busy, little store and take interested visitors out to see the wonders of the sea. His best friends, Frank and Jon, always join him when they take a class out diving. The three friends learnt to dive together and have gone on every dive together since.
Once a year, they have a celebration in honour of the anniversary of becoming 'legal' divers (basically, getting their certification). Each summer, they choose a spot to dive in the Key. However, this year their plans are complicated by their work schedules. Josh works full-time at the dive shop, Frank is a sales associate and Jon is a computer programmer. Between their three jobs, they find it hard to make time for their annual celebratory dive.
Instead, they come up with the idea to dive closer to home, during the weekends. They're surrounded by natural springs to dive, but never tried them as the open ocean was more alluring. So, they head of to Blue Springs in Marianna, where they come across their first cave. None of them have any experience diving caves, which they soon realise they definitely need if they want to go anywhere near caverns or caves. During their amateur, first cave dive, they discover the allure of overhead diving, as well as the dangers.
And thus we get the plot. The three decide to take a cavern diving course during their weekends off. Their tutor, Drew, was recommended through Kathy and is said to be one of the best. Their small group is joined by one other for the class, Asrid- a Swedish woman with just as much passion for diving as them. Josh is your typical lovably, good guy, Frank is the over-confident prankster and Jon is the quiet voice of reason. With Asrid, they add a kind, though a little intimidating, personality to their mix.
This is more of a slow-read. Most of the book is description, with very little dialogue. But the description is so perfectly accurate of what you experience during diving, that I wouldn't call the slow-pace or basic plot a flaw. In fact the opposite. This is a love letter to diving, focusing more on the sensations and the way divers interact and view the underwater environment. It also acts as a cautionary tale, making sure non-divers and divers alike are all aware of the dangers involved, especially if you're a new diver or diving a new area or skill. Diving has an extraordinary amount of certifications because you need to study each specific skill thoroughly. None of them can be added on to another. Cave and cavern diving bring numerous more dangers. On an average open-water dive, the deeper you get, the more light will fade, the higher the pressure gets, the colder the water is, the more air you breathe. If you're in an area with few landmarks, getting lost can be surprisingly easy. In a cavern or cave, you add the threat that an overhead environment brings. There is no longer a direct line to the surface. Sunlight is completely cut off. That mixed with the lengths and widths that tunnel systems can be, poses an extreme danger in and of itself. All it takes is getting a little lost or stuck in a narrow tunnel. Then it's just a matter of running out of the small amount of air you carry on your back.
Keeping track of time and air is crucial in diving. Underwater, time flows differently. You can check your dive computer and find you've been down an hour, when only 10 minutes seem to have passed. Not being able to see the light changing, makes it hard to tell how much time has passed. This book covers the many aspects of diving, from training, experiencing the first dive, becoming qualified, the first 'legal' dive, the experiences you have with the environment and the loss and tragedies that can and do occur. Sometimes, no matter how safe you are, things can still go wrong. Diving rules are built from the mistakes and misfortunes of others. You can never be too careful, especially when there's a hundred feet of water and solid rock between you and another air source.
Some of the writing can be a little rudimentary, but the book pulls you past the occasional occurrence.
A lovely mix of fiction and non-fiction and an enjoyable book that the diver in me can't help but love.
Disclaimer: This book was sent to me by the author through a giveaway. This is not a sponsored review. All opinions are 100% my own.