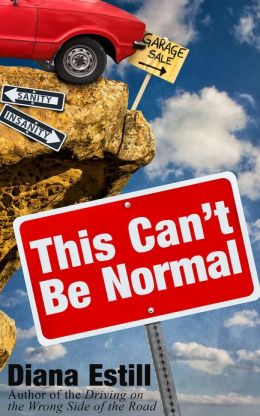 This Can't Be Normal by Diana Estill is a collection of 23 true, short stories about everyday life. Or rather, her everyday life. Set around her home base of Dallas, Texas (with the occasional tale from abroad), we're given small snapshots into the daily goings-on of her household.
There are far too many stories for me to give detailed descriptions of all of them (plus I don't want to spoil anything), so I've created a "mini-trailer" (or something) for the book as a whole. Text only of course. Try to picture a dramatic voice-over. Here it goes:
In a world where garage sales are Utopia, we find these brave heroes on their extraordinary missions.
From analysing the perfect cup of coffee down to its molecular level, to providing
health risk statistics on death by "space pollution" to the public, these warriors may just be
the answer we've been looking for.
What really happens at the dentist? What is the perfect cookie recipe for catering an
apocalypse?
Fighting for humanity against the dreaded CAPTCHAs and taking on an epic quest to
discover untold wisdom hidden in your drawers.
One woman must conquer her fear of glasses containing unknown substances. And
could mens' boxers be the cause of the recession?
This brave family battles onward, desperately trying to provide us with an explanation
of what normal really means.
Coming soon to a book store near you! Actually it already has, pick up a copy today. Okay enough of that. Onto the actual book itself. The writing style is very similar to newspaper columnists. The stories are brief, anecdotal and tell of real-life situations. Therefore, the humour of each story will be completely subjective to the individual reading them. Whether a story is funny or not will completely depend on their own perspective and what most relates to them. But, the likelihood is that everyone will find at least one story that makes them smile in this collection.
The author mixes social commentary with her family oddities, intertwining the two so that both will be entertaining. She can be a little cynical at times, but then who isn't? It just adds to the humour. Her humour is very tongue-in-cheek and she's not afraid of writing degrading comments about people, but makes sure it's all in jest by including herself in the mockeries.
An easy, afternoon read, that'll strike a cord with anyone who's ever wondered what normality really is? And if it's possible for their family to be part of it.
Disclaimer: I received this book from the author through a giveaway. This is not a sponsored review. All opinions are 100% my own.