Hello and welcome to Day 14 of Advent Countdown. Now that Christmas is drawing ever closer at an alarming rate, it's time we start looking at the key players.
First up: the reindeer. Yes, St. Nick's trusty transportation. They've been sung about, written about, and everything in between, but what on earth did Old St. Nick do before he upgraded to reindeer travel? And where did they come from?
Well here's a look at the origins behind Santa's reindeer. The first known mention of the reindeer as we know them was in a poem published by an anonymous author in 1823. We now know the author to be Clement Clark Moore, and it was his famous poem "A Visit From St. Nicholas" (better known as "Twas the Night Before Christmas") that soon ingrained the concept of flying reindeer in Christmas tradition. Here is the excerpt from his poem relating to the reindeer:
"

When, what to my wondering eyes should appear,
But a minature sleigh, and eight tiny rein-deer,
With a little old driver, so lively and quick,
I knew in a moment it must be St. Nick.
More rapid than eagles his coursers they came,
And he whistled, and shouted, and call'd them by name:
"Now! Dasher, now! Dancer, now! Prancer, and Vixen,
"On! Comet, on! Cupid, on! Dunder and Blixem;
"To the top of the porch! to the top of the wall!
"Now dash away! dash away! dash away all!"
As dry leaves before the wild hurricane fly,
When they meet with an obstacle, mount to the sky;
So up to the house-top the coursers they flew,
With the sleigh full of Toys - and St. Nicholas too:
And then in a twinkling, I heard on the roof
The prancing and pawing of each little hoof.
As I drew in my head, and was turning around,
Down the chimney St. Nicholas came with a bound"
It's important to note that Moore only created eight reindeer. They are named in the poem above. Another note of importance are the names of Dunder and Blixem (now widely know as Donner and Blitzen respectively). The original poem was published in Dutch, and used the relative language. Dunder is the Germanic word for 'thunder', and Blixem for 'lightning'.
Rudolph (perhaps the most famous reindeer of all- if the song is anything to go by) came to be over a century later in 1939. He was created by Robert L. May- who was hired by the Montgomery Ward chain of department stores to write a story they could hand out to children in their stores at Christmas.
His original version is very much the same one that is still being told today. Rudolph is a reindeer with a glowing, red nose that other reindeer ostracise him for. One Christmas, Santa found he was having trouble with his deliveries due to heavy fog. He went to Rudolph's house to give the little reindeer his Christmas gifts, and saw his nose. Santa immediately saw the possibility of a light to guide his sleigh, and asked Rudolph to lead guide it.
Written by Robert L. May's brother-in-law, Johnny Marks
It's the traditional 'Rudolph story' we all know and love. Rudolph quickly joined Moore's reindeer, and was accepted into canon Christmas lore. Others have attempted to add their stories and creations too, but none other than Rudolph have ever made it to canon status. The 1964 stop-motion-special named Rudolph as the son of Donner, while the 1998 movie tells us it's Blitzen.
Some stories have even added other reindeer to the ranks. They are incredibly varied, usually related to the reindeer already in the flanks, and never taken as canon. Often stories will tell of other reindeer trying out for Santa's team- frequently they are children of Santa's current reindeer.
A little note. In almost every version the reindeer are always seen with their antlers. Male reindeer lose their antlers in winter, and only the females keep theirs. Which would mean that all the reindeer seen with antlers at Christmas are female. At least, if you want to be accurate about it anyway.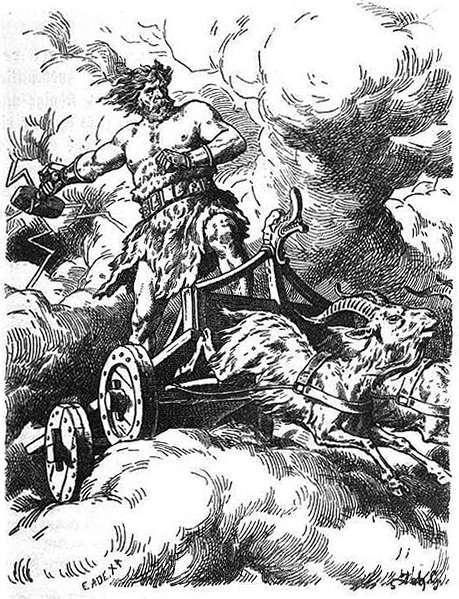 Though if you want to trace where the idea for magical, flying reindeer came from, you can go back a lot further. Norse mythology had a god of thunder- Thor (who is now quite a celebrity himself due to Hollywood). Thor would fly a chariot through the sky, pulled by two, magical goats. Scandinavians would honour Thor by dressing themselves as goats during their winter festivals. During the eighteenth century, the goat became the gift-giver (in place of Santa) in Sweden. This soon evolved in Denmark and Finland, where the goat would frighten children into behaving.
The image of flying reindeer is not too difficult to imagine in the northern parts of the world- where reindeer are common. The Scandinavians and citizens of Eastern Europe domesticated the animals in the eighteenth century, and used them for transportation- pulling sleds, sleighs, etc. The practice is still in place today, and it's not a big leap to see how they could become a mode of transportation for the man in red himself.
I hope you enjoyed Day 14 of Advent Countdown. I found it particularly interesting that one of my favourite Christmas stories was actually the origin of Santa's reindeer (minus Rudolph of course). See you all tomorrow for Day 15. Oh my, it's going rather quickly isn't it?
Resources:
http://www.huffingtonpost.com/2010/12/25/twas-the-night-before-christmas_n_801194.html
http://en.wikipedia.org/wiki/Santa_Claus's_reindeer
http://www.superpages.com/supertips/reindeer.html