Hello and welcome to Day 15 of Advent Countdown. Since we're now only 10 days away from the big day, I thought I'd share a wish list with you. Specifically, these are the books I'm asking for for Christmas. Now I'd like to add a disclaimer here: this is just a general list that people who want to get me something can pick-and-choose from, or to get a rough idea of what I'd like. I'm not expecting people to get me things, and certainly not to get me everything on the list. Now that that's all said and done, let's get into it, shall we?
FYI, this list is in no particular order. I'll add links to each book on amazon too, in case you want to check them out yourself. Well then first up:
1. The Inspector Barnaby Series by Caroline Graham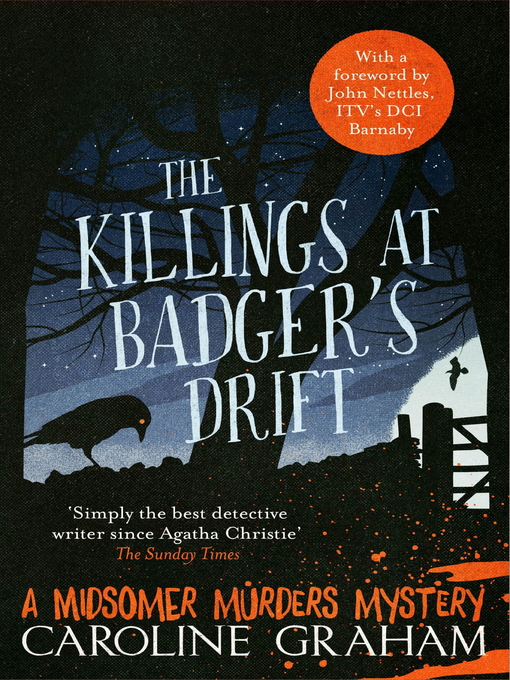 This is a series of seven books, that inspired one of my all-time favourite shows (Midsomer Murders). I've never read the books themselves, and thought it was jolly well time that changed- considering how much I loved the TV series. For those interested, here are the names of the specific books:
The Killings at Badger's Drift (meant to be one of the greatest murder mystery stories of all time)
Next on my list are the first two books from another (quite new) series. These are the only two books from said series out at the time of writing this, and it looks to be a very enjoyable cozy mystery series. I've read the first, but not the second. In fact, I own an e-book version of the first book (which I won in a giveaway. It was possibly even the first book I ever reviewed here). I loved it then, and I'm itching for the next instalment.
2. A Wisteria Tearoom Mystery Series by Patrice
Greenwood
Again, here are the individual books:
If you'd like to check out my review for book one in the series, you can find it here.
Thirdly, I have another series instalment. Again I own the first book already ((through another giveaway) and have done a review on it, which you can find here), but this time I'm only asking for the second. The series is a dark murder mystery (can you tell I love them?) set in New Orleans. I believe this is going to be a trilogy, but only the first two books are available at the moment.
Fourth on my list is yet another series (I know, I know), though each book works as a stand-alone. I call it a series because they're both set in the same universe, with the same characters. Opposite to the previous entry, I own both of the books in this series already, but I only own the first book in e-book format (which I applied to review through a program called Blogging for Books), and would like a hard copy of it. I've read both books in the series (will there be more?), and have reviews for each of them. They are lovely books based on characters getting over grief- in some form or other. They do have religious tones (which I normally shy away from as they can be a bit preachy), but done right. The book isn't about God, it's about the characters- some of whom just happen to be Christian.
The final thing on my list is yet another series (I'm sorry, I'm sorry). Though this one is a little different. It's..
4. The Tintin Series
by Georges Remi (better known by his pen name - Herge)
Now there are 24 books in this series, so I'm not going to spam you with a list of them all. I grew up on Tintin, and have incredibly fond memories of it. Even now, I enjoy the stories and adore the characters. I have somehow managed to make it through my life without owning even a single one of the 24 books, and hope to remedy this soon. For those who somehow don't know, Tintin is a Belgian reporter. He investigates mysteries around the world, with the help of his odd group of friends. He's kind of an Indiana Jones of reporting. The books are beautifully illustrated comics, and the series is one I think would appeal to people of all ages.
And that's my list everyone. A little insight into my Christmas wishes (or something like that). I hope you all enjoyed Day 15. I'll see you tomorrow for Day 16 of Advent Countdown.